Court Turns Down Ekiti Govt's Motion to Stop Probe of Accounts by EFCC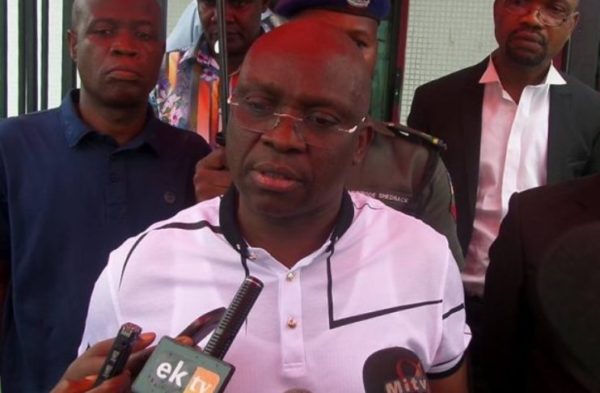 Ekiti State Governor, Ayo Fayose
An Ekiti State High Court in Ado Ekiti on Thursday declined to grant an ex-parte order sought by the Ekiti state government to restrain the
Economic and Financial Crimes Commission (EFCC)
from investigating the finances of the state.
The News Agency of Nigeria,(NAN) reports that
Justice Cornelius Akintayo
refused to grant the order on the grounds that all the defendants in the case must first be put on notice to enable them prepare for their defence at the court.
The judge consequently adjourned the suit to August 23 and ordered all parties in the suit to appear before him when the motion on notice would be heard.
The suit was filed by Ekiti State Attorney-General and Commissioner for Justice,
Owoseni Ajayi
, to stop the impending investigation of the accounts of the state government by the anti graft agency.
Another relief sought by the plaintiffs was an order stopping the arrest of the Commissioner for Finance, Accountant-General, and the managers of the banks in which the state has commitments.
Commenting on the ruling,, a legal practitioner, Kolade Ilesanmi, who came for another matter in the same court commended Justice Akintayo for rejecting the motion to prevent the anti-graft agencies from investigating Ekiti government accounts.
"Myself and another counsel,

Abubakar Ajibade

, are here in the same court for different matters but we stood up as friends of the Court and commend the judge for the ruling.

We also adverted the minds of the Court to similar case before the Akwa Ibom High Court in which the judge granted a motion exparte which has now landed him trouble with the National Judicial Council (NJC).

From the legal point of view, any matter involving federal institutions is usually heard by the Federal High Court save for the matters that border on Fundamental Rights enforcement in which both the Federal High Courts and State High Courts are seized with jurisdiction," he said

About
NAN
The News Agency of Nigeria (NAN) was established by the Federal Government of Nigeria in May 1976 to gather and distribute news on Nigeria and cover events of interest to Nigeria at the international level for the benefit of the Nigerian Media and the Public.